Nursing Care with a Personal Touch.
Care services such as Private Duty Nursing as well as Certified Nurse Aides, Personal Care Workers, Companions and Caregivers are available for our patients as needed to provide the exact approach to care that your loved one needs.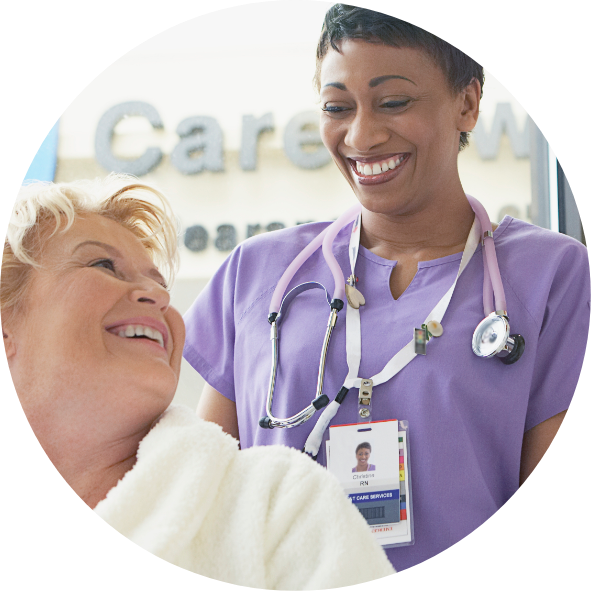 Skilled Nursing
Registered Nurses and Licensed Practical Nurses provide specialized treatment including:
Assessment and observation
Wound care
Ostomy care
Diabetic management and education
Chronic disease management such as heart failure, hypertension, COPD
Post-surgical care
Medication management and administration
Tube feedings and care
Family education
IV Therapy
Respiratory care including ventilator and tracheostomy
Certified Nurse Assistant and Home Health Aide
Assistance with Activities of Daily Living (ADL) provided by Home Health Aides and Certified Nursing Aides include help with these services and more, as needed:
Bathing
Dressing
Grooming
Skin care
Monitoring vital signs
Incontinence Care
Assistance with transfers, walking and prescribed exercises
Medication reminders
Maintaining a safe environment
Caregivers
Daily assistance and companionship provided by our Caregivers can greatly enhance the quality of life experienced by each patient. Our Caregivers are here to serve and offer encouragement and support. They truly care about your loved one's well-being, which can mean so much to each individual. Specific services offered may vary by state, but our aides ensure a safe home environment and provide assistance with:
Bathing
Dressing
Grooming
Skin care
Incontinence care
Assistance with transfers, walking and exercising
Medication reminders
Private Duty Nursing
Our services are often covered by insurance plans, worker's compensation or government programs like the Veterans Administration (VA) or Tenncare. Adoration Private Duty Care is available 24 hours a day, 7 days a week. Private duty skilled services are available for people of any age from infants to seniors.
Private duty services require a physician's order for care and authorization for 3rd party payment. Our services for private duty are available for long-term chronic, respite care and personal care.
Watch our video to learn more about Adoration's Private Duty Nursing.
Questions? Visit Our Private Duty Nursing FAQs.